The movement aesthetic that springs forth out of the tradition reflected in the German Influence explored in the February workshop is something quite special. Those that have the training clearly have a different relationship with space. Some aesthetics want to conquer and seer through space and the Laban-Wigman sensibility merges with space in a molecular kind of way. Could it me the quantum physics discoveries and conversations that affected thinking at the time? How deep does this go? How did other art forms manifest in Germany at the time? How was the embodied dancer different because of the war? Wigman speaks of "gestalt im raum" (energy in space) as a strategy she employed and costume -as- mask to integrate the space of the body with the space of the environment (as opposed to what was happening with Isadora portraying herself as the emotional female in space). Wigman speaks of an interest in centering the weight within the mass of the torso instead of along the spine as ballet did. And why did so much creative process, improvisation, emerge from a culture that seemed so hierarchical at the time?
Colleen Callahan-Russell and Mary Kay Conway are starting a Book Club around these ideas. We are thinking of meeting once every couple months and have 3-4 books in mind that would contribute to this topic. Maybe we would all read a different one or maybe the same and focus on a question of interest. (Some may be more interested in movement principles, some feminist issues in her work, some nationalistic issues, some maybe the Nazi question, some the factors that contributed to the technique, etc. etc.) Still to be decided. If those involved feel like it went well, we would pick a different topic the next time and casually research that. And of course moving is a must in understanding the whole picture.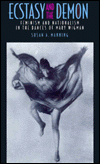 Book: Ecstasy and the Demon: Feminism and Nationalism in the Dances of Mary Wigman by Susan Manning
Date: April 12, 2003
Time: 1:00pm to 2:30pm
Place: TBA
So, if you are interested in joining us, e-mail Colleen soon!
It almost seems like we are moving towards our own study group that forwards our discoveries, understanding, sharing, and maybe article writing around dance issues.