Dance Educator's Coalition presents a Summer Weekend Workshop
From Crawling to Leaping: Rediscovering the Resilience of the System
with Rebecca Nettl Fiol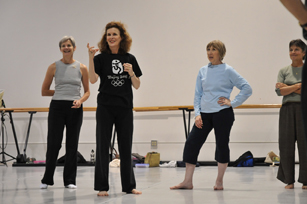 In this workshop we will look at ways to apply principles of the Alexander Technique in a dance context, using developmental movement as a conduit for exploring the relationships between the two.
For those that participated in the 2009 workshop, we will revisit many of the same concepts but will continue to explore their applications both in your own dancing and as a knowledge base for teaching dancers. For those new to the work, you will be introduced to the fundamental principles of the Alexander Technique through the lens of developmental movement. We will look at primary and secondary curves and the constant interplay between the two in movement; the spiral as an organizing system that facilitates lengthening and supports connectivity; and uncovering our innate resiliency. We will also explore how parts of the body are a reflection of the whole, and how this point of view can inform our teaching and our manner of correcting students.
Each day will include a technique class that incorporates the concepts, followed by a workshop where we can explore the principles more thoroughly.
When: Thursday, July 29th through Saturday, July 31st, 9:00 a.m. - 12 p.m.
Where: Perpich Center
Cost: $100
Register online by e-mailing DEC.
Make checks payable to DEC.
Dance Educator's Coalition
1376 St. Clair
St. Paul, Minnesota
55105-2335